Wildfire Mitigation Specialist and Local FireSmart Representative for Nakusp and Area K:
Bree Lillies
blillies@rdck.bc.ca
Cell: 250-354-8120
Find other wildfire risk reduction information here.
---
January 12, 2022
Thanks for a great 2021 year being FireSmart! There was a total of 10 FireSmart assessments done in Nakusp and the area, and 5 people applied for the $500 FireSmart rebate. Keep it up Nakusp!
---
July 12, 2021
FireSmart Rebate Program! How to get an up to $500 rebate by Firesmarting your home:
---
June 21, 2021
Area K Communities are Getting FireSmart!
Rosebery, Arrow Park, and Edgewood have all been undergoing FireSmart preparedness days with FireSmart program coordinator, Bree Lillies.
---
FREE FireSmart Assessments for Nakusp and Area, Find Out How You Can Get A $500 Rebate!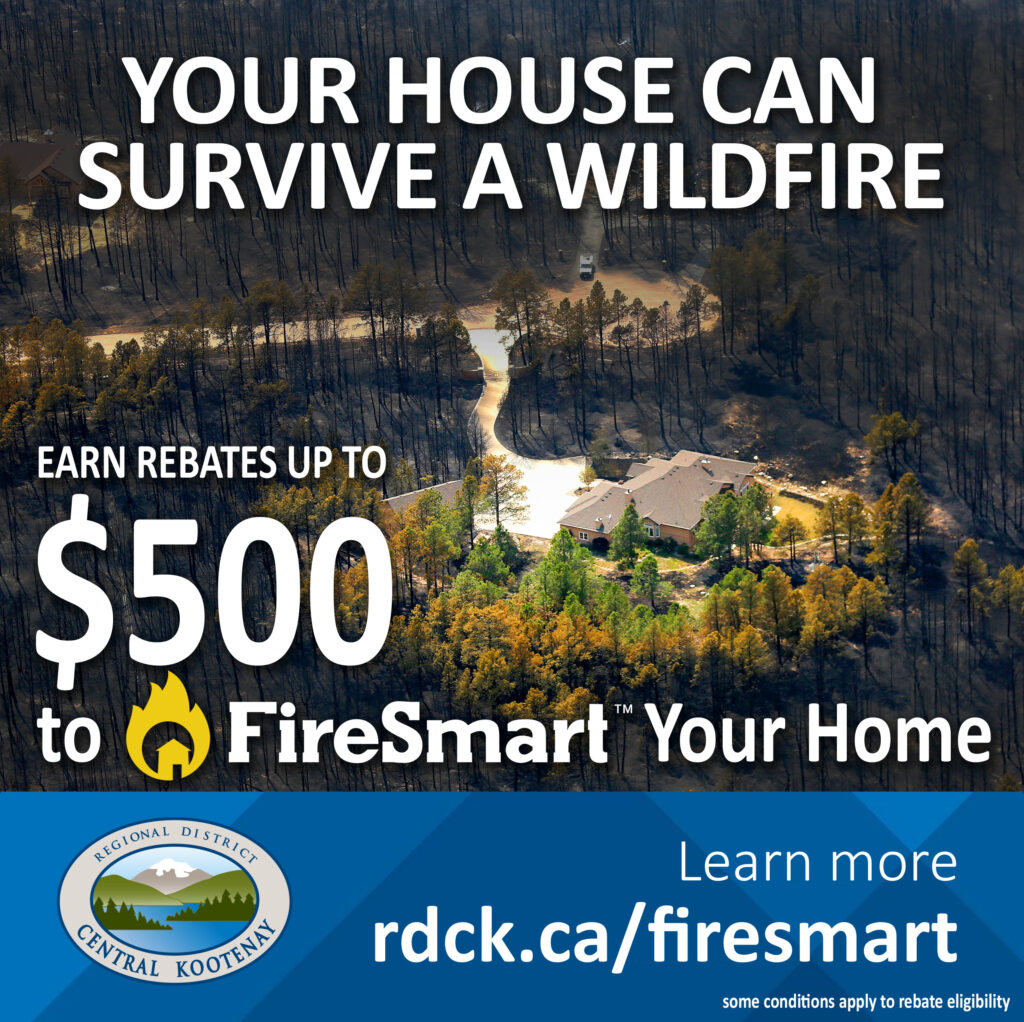 ---
May 19, 2021:
The Nakusp and area FireSmart program is up and running for the season!
FREE FireSmart assessments are available along with a new rebate program for the 2021 season. To book an in-depth property assessment with your local Wildfire Mitigation Specialist call: 250-352-1539 or book online: FireSmart Assessment Application
Take a listen to this informative interview on the Get FireSmart Podcast to better understand what FireSmart is all about: https://podcasts.apple.com/ca/podcast/02-what-is-firesmart-guest-kelly-johnston-firesmart-canada/id1562371977?i=1000516468731
FireSmart is a community led program intended to educate, promote, and implement wildfire mitigation efforts. The program is administered by the RDCK with funding provided by a grants obtained by the Village of Nakusp with NACFOR as a partner.
FireSmart homes and neighbourhoods allow fire fighters to concentrate on fighting the wildfire – which ultimately saves more homes and lives. Communities whose residents take steps to reduce their vulnerability have a greater chance of surviving a wildfire without the intervention of the fire department. The program draws on a community's spirit and its willingness to take responsibility for reducing wildfire risks.
Have you prepared your home for a forest fire? Do you know what to look for? Visit the RDCK website for information about the FireSmart program and scheduling a free FireSmart home assessment. A few easy, low cost improvements could save your home and community from a wildfire.
---
Completed Home Partners Program assessments to 2020:
Twenty Home Partners assessments were completed throughout Nakusp and Area K. Assessments were completed for the Village of Nakusp properties, including the Hot Springs Chalets and buildings, Public works building and Village Office. 2020 assessments were down across all RDCK areas compared to previous years. In 2019, 31 Home partners Program assessments were completed, 9 in 2018 (no local Wildfire Mitigation Specialist in Nakusp) and 20 in 2017.
---
Other 2020 highlights include:
FireSmart information displays at four Nakusp Farmer's Markets and two Edgewood Markets
Presentation to Village of Nakusp Council, July 2020
FireSmart Event with Area K Director Paul Peterson with West Arrow Park Residents
Post mail out for all of Nakusp and Area K – advertising Free FireSmart Assessments
FireSmart program advertising in Arrow Lakes News
Facebook posts on NACFOR and Village of Nakusp Facebook pages
Home Hardware FireSmart Display
Edgewood Elementary School Presentations
Fire Department/Brigade outreach and presentations – Burton, Edgewood, Nakusp
Community presentations in Nakusp, Burton and Fauquier
Nakusp Chamber of Commerce outreach
Halcyon Hot Springs and community outreach
FireSmart information display at Toad Fest Event – Summit Lake