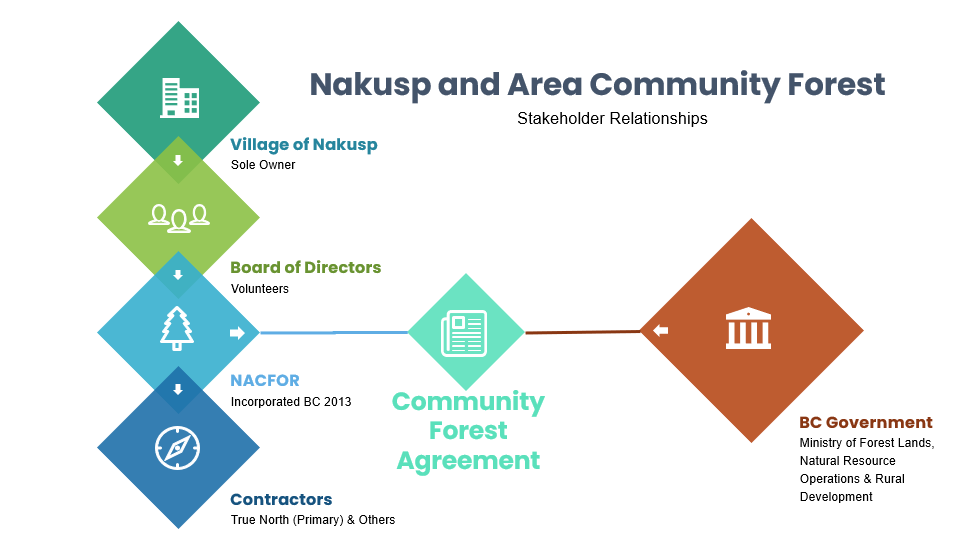 The Village of Nakusp is the sole shareholder of NACFOR Corporation. Village Council appoints a volunteer Board of Directors annually. The Board of Directors is responsible for governance and hiring a management contractor through a provincially competitive Request for Proposal (RFP) process. The management contractor is responsible for the day-to-day operations of the community forest, guided by a strategic plan and budget.
You can find out more about our Board of Directors on this page.
True North Forestry Consulting Ltd. is currently the management team for the Nakusp and Area Community Forest. You can find out more about True North Forestry Consulting Ltd. on their website.
In keeping with the Company's mission and values, the NACFOR management team strives to hire local contractors wherever possible, for all of the following operations:
Forestry planning and development
Road and bridge construction, road deactivation and maintenance
Harvesting, trucking, and silviculture
Visit the Reports & Recordings page for more information about NACFOR operations. Or, see NACFOR's Business Plan Summary.