Nakusp and Area Community Forest is inviting local or regional companies not currently on NACFOR's contractor list to apply for eligibility. To be considered eligible in any given category, contractors should meet the following general requirements:
SAFE Company Registration or Certification from the

BC Forestry Safety Council

A WorkSafe BC number in good standing with appropriate classification under categories for which eligibility is being sought
Good company standing
Appropriate liability insurance
Experience, with references as requested
Local contractors will be prioritized
Please click on the link below for the Expression of Interest form:
Community Profiles
View our Contractor and other Community member's profiles here.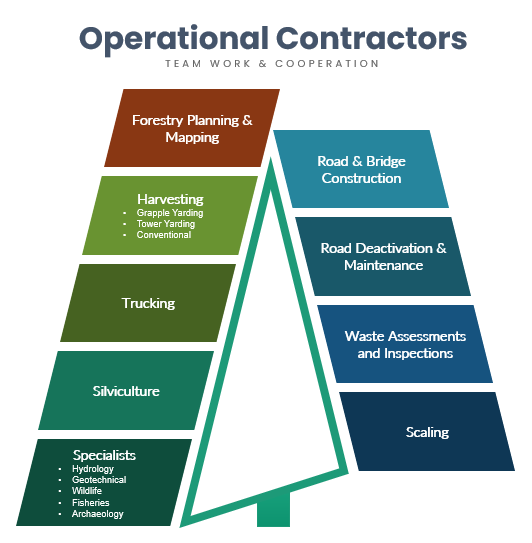 Completed forms may be:
Scanned/ emailed to: Mike Crone, Project Manager
Hand-delivered to: the NACFOR office at 119 Broadway Street in Nakusp
Mailed to: Nakusp & Area Community Forest, Box 925, Nakusp BC, V0G 1R0
Note: Contractors already on NACFOR's eligibility list need not re-apply; however, anyone uncertain regarding their current status should phone or email to confirm.
NACFOR follows its Environmental and Safety Management System (ESMS) to ensure operations are within compliance with legislation and acceptable environmental standards.
Contractor Work Documents
Working Guides